October 17

 2022
David Schwartz nominated for Best Score at the Critics Choice Documentary Awards for Amazon Studios' Lucy and Desi
September 3 2022
David Schwartz awarded a Primetime Emmy – Outstanding Music for a Documentary Series or Special for  Amazon Studios' Lucy and Desi.
April 5 2021 
David Schwartz Scoring Peacock's Rutherford Falls.
Rutherford Falls will premiere on April 22, 2021 exclusively on Peacock.
March 31 2019
VEEP Season 7 premiers tonight!  Check it out on HBO.
March 15 2019
Arrested Development Season 5 episodes 9-16 are now streaming on Netflix!
May 29 2018
Arrested Development Season 5 episodes 1-8 are now streaming on Netflix!
March 10 2017
Excited to share that there WILL be a Season 5 of Arrested Development, stay tuned!  Also, Season 2 of Lady Dynamite will be out soon!
March 10 2017
Looking forward to Season 2 of The Good Place on NBC!
March 10 2017
Season 2 of Better Late Than Never coming soon to NBC!
June 20 2016
Very excited about the brilliant new comedy 'Lady Dynamite' go watch it on Netflix now!
AUGUST 12 2014
Excited to have just finished writing music for a hysterical new TV show called BENCHED.
"The single-cam laugher — penned by Trophy Wife's Michaela Watkins and Damon Jones (Halfway Home) — stars Eliza Coupe (Happy Endings) as Nina, a dedicated, career-driven corporate attorney who has a very public nervous breakdown after getting passed up for an expected promotion and winds up working as a public defender."
DECEMBER 26 2013
The Arrested Development soundtrack is officially for sale!! Order the album here
Here's a video feature put together by our friends at Varese Sarabande who released this epic record and put together one of the most exciting record release parties ever.  The release party took place at the Record Parlour in Hollywood.  If you love music, you must stop by and see their amazing collection. Happy Holidays! 
OCTOBER 24 2013
The Arrested Development soundtrack is officially set for release on November 19th 2013!
Pre-order the album here!
The playlist is based on all of the requests from we received during the AMA on reddit.com. Greatest fans ever! The soundtrack features music from all 4 seasons and is a whopping 42-tracks.
Click the album jacket to see the full liner notes below!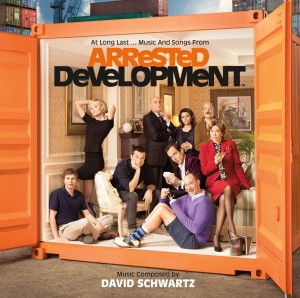 AUGUST 27 2013
For all you Arrested Development ukelele fans, here's a video of David and the musical genius George "Jorge" Doering on Tahitian Ukelele breaking down the theme song to Arrested Development. Enjoy!

JULY 22 2013
David has been nominated for an Emmy for his work on Arrested Development!!!  David would like to thank everyone for all the kind words and congratulations and say it's quite the honor to be listed among such outstanding composers.
Outstanding Music Composition For A Series (Original Dramatic Score)
David Schwartz  • Arrested Development (Netflix)
Trevor Morris • The Borgias (Showtime)
Jeff Beal • House of Cards (Netflix)
Robert Duncan • Last Resort (Showtime)
JULY 10 2013
Yamaha Entertainment gave David the opportunity to do a Twitter Takeover on Monday July 8th.  Visit their Twitter feed to see the Q & A session here.
In the studio with Cindy Lee Berryhill this weekend. Lots of great LA/SD musicians in the studio!
JUNE 28 2013
Check out the new trailer for Lucy Schwartz' new full length record, coming out on August 27th. David co-produced this with Lucy. It's her best work yet!
JUNE 25 2013
Berklee School of Music interview has been posted here. Also, to all your Arrested Development fans, the soundtrack has begun the first stages of production.  Thanks to everyone's input on REDDIT and this homepage, a soundtrack is being put together for release within the next few months.
JUNE 9 2013
Check out David's AMA (Ask Me Anything) on REDDIT for answers to all your Arrested Development related questions.  Thanks to all who contributed, feel free to keep adding questions.  David is responding in between breaks from writing.
MAY 30 2013
Another interview about David is featured on the Projector and Orchestra blog here! Check it out!
Stay tuned to REDDIT for an upcoming AMA (ask me anything) live June 7th from 4p-6p PST.
MAY 29 2013
The new website is live! Stay with us as it 's updated with samples of music from all the new projects David's finished.
Check out this interview with David at http://voice.fan.tv.

MAY 21 2013
Arrested Development Season 4 soundtrack is finished! This was one of the most exciting and creatively challenging seasons yet. Looking forward to May 26th when Arrested Development is released.
The David Schwartz' produced "Timekeeper" by artist Lucy Schwartz will be released this August, but is already receiving critical acclaim. Her song Ghost in My House can be heard streaming on her website. The song has already received airplay on KCRW's show "This Morning Eclectic" as well as the SHOWTIME exclusive "House Of Lies".

JANUARY 15 2012
David has started working on the soundtracks for the following shows:
Chaos, Worst Week, Sit Down Shut Up, Running Wilde, Inbetweeners
JUNE 14 2011

I will be composing music for the new NBC Drama "The Playboy Club" premiering this fall. It takes place in the original Chicago Playboy Club in 1963. Very cool show!
I will also be writing music for "Inbetweeners" coming to MTV. This is a current hit in Britain and should be here as well!
This summer I will be producing new material for artist Lucy Schwartz.
Last but not least …. look for new Arrested Development developments in 2012
FEBRUARY 01 2011
David just returned from a 3 day mini tour, paying bass with Lucy Schwartz. Spaceland Silverlake with The Bell Brigade, Salt Lake City with The Low Anthem and Raining Jane, and the Sundance Festival, BMI Snowball concert with Brett Dennen and Robert Randolph and the Family Band. A great time was had by all!
David has started composing for NBC's Chaos. The show will air in April 2011.

NOVEMBER 05 2010
David is having a great time composing for Running Wilde (FOX , Tuesdays @ 9:30). Look for a special episode airing next Tuesday, November 9th. Steve and AndyÂ's (guest star Cross) rivalry for EmmyÂ's affection reaches a breaking point leading to Steve inadvertently throwing an elaborate Renaissance fairy tale wedding for his adversary and the woman he loves. The Episode feature a song song David co-composed with Mitchell Hurwitz & Gabriel Mann,"The Ass's Tale".
Next up for David…. "Chaos" (CBS), to air midseason 2010-2011. "Chaos" (CBS) is a drama about a group of rogue cia operatives who combat bureaucratic gridlock, rampant incompetence and political infighting. Freddy Rodriguez stars in CBS's "Chaos" TV show as Rick Martinez, a dedicated and naive agent who believes he can make the world a better place.
d.Fly will be playing bass with Lucy Schwartz
– The Hotel Cafe: Fri, Nov 12, Los Angeles, CA
– Rockwood Music Hall:  Thu, Nov 18, New York, NY
– Zoey's Cafe: Wed. Dec 3, Ventura, CA
AUGUST 02 2010
d.Fly produced a song for the upcoming "Parenthood" Soundtrack . John Doe & Lucy Schwartz are the artists. The song is Bob Dylan's "Forever Young".
Lucy & Aqualung performed a duet "Seven Hours" also produced by d.Fly. The song will be available as an itunes extra on Lucy's upcoming CD "Life in Letters".
David's new TV series is starting up. 'Running Wilde' will debut Tuesday, September 21 at 9:30/8:30c on FOX! "CHAOS" (CBS) will be airing mid-season.
David / d.Fly has had a busy summer with lots of Bass gigs with Lucy, including The Lilith Tour, The Jay Leno Show. Skywalker Sound & the Los Angeles Film Festival. Gigs in August include The Rockwood Music Hall NYC August 6th & The Standard in LA August 11th. Also a show with fabulous singer songwriter Jude Johnson 8/14 @ Room 5 LA.
MAY 18 2010
After an extremely busy pilot season, the news is starting to filter in. One of David's shows, 'Running Wilde,' has already been picked up. It stars Will Arnett, and is created by Mitch Hurwitz, Jim Vallely, and Will Arnett. More pilot news as it develops… Also, Lucy's song, "When We Were Young" is the international main title for NBC's new hit dramedy, "Parenthood." (in the US, it's Bob Dylan's "Forever Young," but you can catch Lucy's song in Parenthood episodes on Hulu). The song was produced by David.
MAY 07 2010
Catch Lucy on The Tonight Show with Jay Leno – Friday, May 7th @ 11:30pm. Lucy and Landon Pigg will be performing the song they wrote, "Darling I Do", for the film Shrek Forever After. David produced the song, and will be playing bass with Lucy and Landon. Soundtrack coming May 18th! Here's the link to the performance.
Also check out Lucy's song "Little One" in the wonderful film "Mother and Child," Directed by Rodrigo García. The song was produced by David.
FEBRUARY 10 2010
35th LA Composer Salon February 21 at Tuttomedia- David is a featured Composer and will be presenting his work and performing a song he produced for the upcoming "Shrek Forever After". Here's a note from the program- in David's words:
"I always knew I wanted to be a musicianÂ…or a magician. By 14, my magic career had faded, and I was left with music. I didnÂ't know I wanted to be a composer, but I was always interested in film and the visual arts—I come from a family of visual artists.
I started out on guitar, and later switched to bass (at the insistence of the other two guitarists in my band). I soon discovered the double bass and enrolled in Berklee, where I was fortunate to study under Bill Curtis and Charlie Banocos, and to play bass in Gary BurtonÂ's mallet ensemble.
After school, I allowed the gigs to take me from one style of music to another. I played in jazz ensembles, symphony orchestras, rock and R&B bands, and the occasional country outfit. Although I tended to view the variety as an impediment to my playing career, it turned out to be an asset when I became a composer.
My first "real" composing job, Northern Exposure, was a trial by fire. Starting with a completely blank musical slate each week was terrifying, but it gave me the opportunity to compose a wide variety of music while developing a personal sound.
Since then, I have attempted (with varying degrees of success) to approach all my scoring opportunities in a similar way—starting with a blank slate, using a beginnerÂ's mind. IÂ've been fortunate to work with (mostly) brilliant producers and directors, who really understand the value of music."
OCTOBER 09 2009
Barrie Maguire and David are co-producing, "Help Me! Help Me!" the single from the upcoming Lucy Schwartz EP of the same name.
David is very excited by the news coming out of the Arrested Development writing bunker.
SEPTEMBER 18 2009
Sit Down Shut Up is back on the air- Saturday nights at FOX at midnight. d.Fly actually sings the Main Title theme!
Lucy Schwartz's song "Gravity" will be heard on Grey's Anatomy , September 24th, 2009

JULY 06 2009
David is finishing the last eight episodes of Sit Down Shut Up. Air dates TBA.
Three songs produced by David for singer/songwriter Lucy Schwartz are featured in three upcoming films!
Listen for Lucy's song "Gone Away" in the July 29th release of the Sundance hit "Adam" starring Hugh Dancey & Rose Byrne. Opening August 21, "Post Grad" starring Alexis Bledel and Michael Keaton features her song "Turn Back Around". Lucy's song "Little One" is in the film "Mother and Child" starring Naomi Watts, Annette Bening & Samuel L. Jackson (2010 release).
APRIL 02 2009
David is deep into Sit Down Shut Up, the new animated series from Arrested Development creator Mitch Hurwitz. The show stars AD alumni Jason Bateman, Will Arnet, & Henry Winkler amongst others. David is also co-writing the songs for SDSU with Gabriel Mann and Lucy Schwartz. The show airs April 19th, and it is hysterical.
David just finished a main title theme for Dallas DNA, airing soon on Investigation Discovery.
Lucy's song, Gone Away (produced by d.Fly) is currently being used for the promotional campaign of the final episode of NBC's ER. Seems like this song has become a favorite with medical shows.
JANUARY 8 2009
David recently produced "Gone Away," a new song by Lucy Schwartz which will be featured in the January 8th episode of Private Practice on ABC. He also produced Lucy's "Turn Back Around," which will appear in the upcoming film The Post Grad Survival Guide, starring Alexis Bledel.
Get excited for season two of Reaper, which premieres on Tuesday, March 17 on CW.
Like everyone, David is hoping that the Arrested Development Movie rumors are true…


OCTOBER 20 2008
David is producing the new electronica band Mine All Mine. Their single, "The Way We R R," has been playing on LA's KCRW FM, and debuts today in a national Payless spot. Check out Mine All Mine's website here!
David and the Arrested Development band played to a sell-out crowd at the Vanguard in Hollywood last Thursday. In additional to the Arrested Development Theme, the band performed the A.D. faves, "Balls In the Air," "Git Along, Little Sheep," and "Big Yellow Joint." The band was the special guest for the inaugural performance of the sketch comedy group "A Pretty Good Show." The night was a huge success, and a good time was had by all.
Stay tuned for the release of the soundtrack to Gonzo: The Life and Work of Dr. Hunter S. Thompson. David's main title theme, "Gonzo's Honest Run," is being promoted as the single from the soundtrack.
David's new comedy, Worst Week, has been critically acclaimed, reviewers calling it the "best new comedy of the fall."
AUGUST
 24 2008
"The Women" premieres September 4th in Los Angeles. The Soundtrack on Verve, featuring "Beautiful" and "Count On Me" debuts September 9th. The movie opens wide September 12th,
David is scoring the new CBS comedy "Worst Week". The series will premiere September 22nd.
Reaper (CW) returns mid season on the CW.
David will be scoring the new animated series from Mitchell Hurwitz " Sit Down, Shut Up". Look for it to start up February 2009.
JUNE
 04 2008
"Gonzo: The Life and Work of Dr. Hunter S. Thompson", will hit open nationwide July 4th, 2008. View the Trailer here.
APRIL 30 2008
David has co-written, with Lucy Schwartz and Gabriel Mann, the opening title song "Beautiful" for the film "The Women". Lucy composed the end credit song "Count on Me" and is the artist on both songs. Larry Klein & Walter Becker produced Beautiful, and Mitchell Froom produced Count on Me. The film, directed by Diane English, stars Meg Ryan, Eva Mendez, Annette Bening and Debra Messing, and will premiere October 2008 in NYC.
Current scoring projects include Reaper (CW), Rules of Engagement (CBS) , a new animated series for Mitch Hurwitz, "Sit Down Shut Up" (February 2009), and a new pilot for CBS, "Worst Week".
JANUARY 27 2008
Gonzo, The Life and Work of Dr. Hunter S. Thompson, premiered at Sundance film festival January 20th to an enthusiastic audience, with rave reviews. The film will have it's theatrical release this May. David and director Alex Gibney were speakers at BMI's Sundance Music & Film roundtable.
Songwriter Lucy Schwartz has been mentioned in this week's Entertainment Weekly, in an article titled "Tomorrow's Hit Bands — Today!" Her recently-released album has also received regular airplay on LA's KCRW radio for the last month. You can check out her Myspace here.
DECEMBER 13, 2007
The film "Gonzo" (Jigsaw productions), Alex Gibney (director), will premier at the Sundance Film Festival on Sunday, January 20th 2008.
David will be scoring the telefllm True Confessions of a Hollywood Starlet, Tim Matheson (director), Barbara Lieberman (producer), Robert Greenwald productions.
OCTOBER 3, 2007
It's been a busy and gratifying summer/ early fall. David scored the film Gonzo for director Alex Gibney. David's three series have all hit the airwaves. New series, Reaper (CW) and Carpoolers (ABC) and Rules of Engagement (CBS) returns for a triumphant second season.
BMI Podcasts is featuring singer songwriter Lucy with 3 other songwriters). Check it out and vote here: www.bmi.com
JULY 27, 2007
David has started work on the television series Reaper airing this fall on CW.

JULY !4, 2007
David's theme to Deadwood will be played by Lucas Richman conducting the Young Musicians Foundation/Balmat National Orchestra at Mt. Rushmore on July 29.
David has started work on the new comedy Carpoolers, airing this fall on ABC.
David will be writing music for the upcoming documentary film, Gonzo, about the life of Hunter S. Thompson.
David was recently interviewed for the satellite and internet radio program Musician's Radio.
David will be playing three live performances with singer/songwriter Lucy in LA and New York City. Show dates and locations can be found here.
.

JUNE !3, 2007
David has produced an album by indie singer/songwriter Lucy. You can check it out here.
Last week, David finished the score and songs for the Lifetime movie "Write & Wrong".
Rules of Engagement will be returning to CBS this fall. Stay tuned!

MAY 02, 2007
David just finished 3 new television pilots that will hopefully air in the fall. Much more later….
Also, David will receive a BMI Film & Television Award, to be held Wednesday, May 16 for the CBS prime-time network television series Rules of Engagement.
JANUARY 05, 2007
David will be scoring the new CBS series Rules of Engagement, premiering February 2007.
Rules of Engagement is a Hit. From Variety 2/20/07-
NOVEMBER 11, 2006
'A Christmas Wedding' The two- hour movie premieres Monday, December 11 at 9PM (ET/PT) on LIFETIME Television.
'Big Day' premieres Tuesday, Nov. 28th at 9/8c on ABC
'Runaway' will return as a mini series and DVD this summer
Look for two HBO Deadwood movies next year
'Underfunded' aired 11/08/06. Check for repeat broadcasts or view it here.
SEPTEMBER 29, 2006
Runaway with David's score is airing Monday nights at 9pm on the CW network.
David is finishing scoring the USA film Underfunded. It will air in October.
The Lifetime Film, A Christmas Wedding, will premiere in November. It features David's score. and the songwriting of Gabriel Mann & David Schwartz.
Big Day, for ABC, coming to a screen near you this fall.
JUNE 17, 2006
David will be scoring two new series this fall:
– 'Runaway' a tense drama with Donnie Walhberg, for the CW network.
– The real time comedy 'Big Day' for ABC with Wendy Malick.
David has completed the score and songs for the Lifetime Film 'A Christmas Wedding' and has begun the USA film 'Underfunded'.
Look for the 3rd season Arrested Development DVD shortly!
OCTOBER 25, 2005
David will be composing the score for the film "A Christmas Wedding" (LifeTime)
JUNE 29, 2005
David is the composer for the new fall series Sex, Lies & Secrets ( formerly Wildlife) starring Denise Richards.
JUNE 14, 2005
Arrested Development (& David) picked up for 3rd season! Second season DVD on the way.
JANUARY 22, 2005
Deadwood soundtrack featuring DavidÂ's theme, to be released on Lost highway Records, February 8th.

DECEMBER 14, 2004
2005 Golden Globe nominations announced
Television Series – Musical or Comedy: Arrested Development (FOX)
Television Series – Drama: Deadwood (HBO)


SEPTEMBER 19, 2004
Arrested Development takes 5 Emmys including Best Comedy! The Arrested Development DVD, available October 19, will feature a soundtrack section (29 songs by David Schwartz).

Deadwood wins Emmys for best Directing, and best Sound Editing.
JULY 15, 2004
David has been nominated for an Emmy in the 'Outstanding Main Title Theme Music' category for his Main Title theme from Deadwood (HBO)
JUNE 20, 2004
John Mauceri and the Hollywood Bowl Orchestra are planning to perform David's 'Theme From Deadwood'. The theme will be featured at Television Night At The Hollywood Bowl II on July 9th.
JUNE 04, 2004
Television Critics Association's Awards: Arrested Development leads all shows with five nominations for the 2004 Television Critics Association's awards. Deadwood, with three nominations.
Arrested Development has been pickup up for a full 22 episodes. New episodes to air this fall.
Season one finale to air this Sunday June 7th at 8:30PM, following the Simpsons.
MAY 05, 2004
Please visit the updated music section for the latest music from d.Fly.


APRIL 01, 2004
The DVD for the series Arrested Development to be released soon.
MARCH 01, 2004
David has composed the Main Title theme for HBOÂ's new series Deadwood, produced by David Milch. David will be scoring some of the weekly episodes.
'Yamaha 02R96 "Arrested" by composer David Schwartz': Feature at the Yamaha website.
FEBRUARY 
12, 2004

Interview with David Schwartz at the Yamaha website.
DECEMBER 
18, 2003

Arrested Development nominated for Golden Globe and AFI awards.


SEPTEMBER 16, 2003

David is the composer for the new Fox series Arrested Development [Mitch Hurwitz & Ron Howard producers]. Premiering Sunday, November 2nd at 9:30 pm.
JULY 01, 2003
David has finished production on "Two Doors" a new CD by Japanese Artist, Hitoshi Watanabe. The project will be released in Japan October, 2003. Musicians included: Alex Acuna, Luis Conte, Michael Fisher – Percussion. Charlie Bisharat & Olivier Manchon – Violin, Pedro Eustache – Duduk & Wood flutes, Eric Rigler, Bagpipe & Irish Whistle, Rick Todd – French Horn, Hitoshi Watanabe – 12 string Fretless Guitar, Mandolin, Ukulele, Basses, Cello & special guest Michel Colombier – Piano.
APRIL 08, 2003

David is currently working on music for two great new Television Pilots:
"Arrested Development" [Mitch Hurwitz & Ron Howard producers,] for Fox, and "Exit 9″ [Erik Zicklan producer,] for the WB.

DECEMBER 20, 2002

David is composing some episodes of NBC's Hidden Hills [Tuesdays @ 9:30]
He is co-producing (along with Vincent van Haaff) Japan's Hitoshi Watanabe for an upcoming release.
He is also playing bass & co-producing Larry John McNally [' Nobody's Girl', 'For my Wedding']
NOVEMBER 15, 2002
Lifetime Network to feature new musical logos by David
JULY 30, 2002

2002 Emmy-nominated Composer David Schwartz Tunes In To Yamaha

JULY 18, 2002

Emmy Nominations announced!
David has received an Emmy nomination for 'Outstanding Main Title Theme Music' for Wolf Lake [CBS, Big Ticket Television] 

JUNE 15, 2002
The new David Schwartz Website goes online!

JUNE O1, 2002
David will be a featured speaker at the 'State Of The Art' conference for the Society of Composers & Lyricists